Builder Supports Audience Engagement at VidCon 2019
At Builder, we're crazy about creating experiences for customers. That's why when we had the opportunity to help NBCUniversal, Stay Tuned and E! create magic happen at VidCon this July, we jumped at the opportunity. 
Yes, we enabled NBCUniversal alongside Mirrored Media, to create immersive experiences for thousands of Gen Z attendees at VidCon 2019–which was quite a challenge. As always, though, Builder was able to bring a powerful idea to life. The event was a success and not just by our estimation, both for NBC and for us. Weren't there to enjoy it? We're pleased to give you an exclusive recap below.
First things first, what's VidCon?
VidCon is a multi-genre online video conference held annually at the Anaheim Convention Center in Southern California since 2010. Originally conceived by Hank and John Green of the Vlogbrothers YouTube channel, the convention is the largest of its kind in the world It gathers thousands of online video viewers, creators and industry representatives worldwide in one physical place.
NBCUniversal & Builder: the full story
NBCUniversal has always been on the forefront of tracking Gen Z user behavior while engaging them across multiple media platforms–from television to social media. Considering they create meaningful content attendees can relate to on a personal level, NBC had the goal of giving attendees a tool to express themselves. Let's talk about Gen Z. This generation is cerebral and socially-engaged, and they're also changing the face of entertainment. To reach such an audience, one would need to create a platform that reflects customers passions and interests, alongside a rich experience.
The challenge
NBCU wanted a digital integration into the physical presence of their VidCon 2019 Booth for fans to share their voices. What they did not have was the means to create apps that accomplished their specific sub-brands' (Stay Tuned & E!) goals. For more on both the Stay Tuned and E! Projects more specifically, check out more information below. 
Our solution
We created multiple software solutions for the various areas of their highly-engaged booth. The result: Builder by Engineer.ai created two custom app solutions operated onsite via iPads and screen-casted onto TVs in the booth space for an inspired, real-time experience. How cool is that?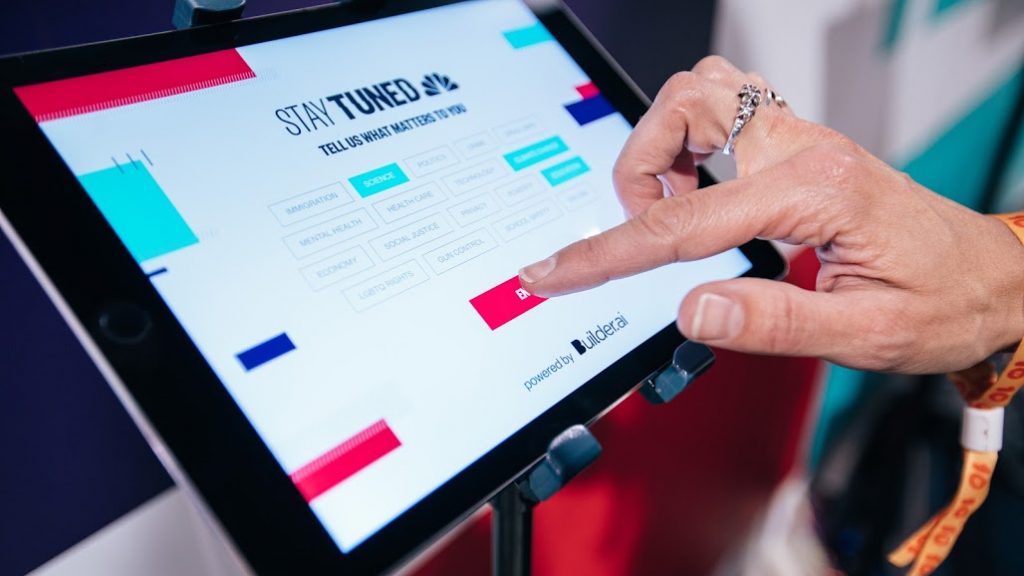 More about the Stay Tuned app
As Gen Z approaches voting age, we want them to know that regardless of their vote, their collective voice still matters. We want to encourage them to speak their minds and demonstrate the true value of their thoughts.
Stay Tuned for What Matters gave Gen Z festival-goers an opportunity to have their voice heard and seen in real-time. By utilizing several iPads with custom voting software and a large monitor displaying real-time results, guests shared what's on their mind by choosing from multiple hot button topics.    
More about the E! app
To celebrate E!'s upcoming People's Choice Awards, we created a voting app that allowed attendees to write in their choices for three categories during the broadcast: Social Star of 2019, Social Celebrity of 2019 and Beauty Influencer of 2019. This gave fans the opportunity to vote for their favorite celebrities for a People's Choice Award. A screen then displayed the top fan favorites in each category.
Every time one of our partnerships comes to fruition, we get a little teary-eyed. We're honored to be able to create entertaining and enthralling experiences for customers globally. Here's looking at all you Builders out there. This is the time for your idea to shine. Are you ready to make your dream a reality? Start your project today with Builder!
Thanks to Mirrored Media for the images.